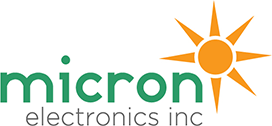 Call Us Today on 905-828-1662
Micron Electronics Inc.: Mississauga's Source for Expert TV Repair
TV Repair, Sound Equipment Service, & More
Don't panic. Micron Electronics Inc. has 30 years' experience in successfully and affordably repairing Mississauga and Oakville area electronics such as:
Microwaves
TVs (LCD, plasma, LED, projection, monitor)
Reputation for Top Service
Micron Electronics has gained a reputation in the industry for delivering the highest level of service to both consumer and professional customers.
Experienced Mobile Technicians
Our mobile technicians are fully qualified to handle in-home service they keep current on building codes and safe installation/engineering practices for retail stores, shopping malls, hotels, restaurants and night club installations.
Professional Equipment
Count on Micron Electronics to install and service:
Video distribution over RF*, CAT5**, HDMI***, DVI****, etc.
Flat-panel displays in many digital media signage applications: homes, doctors' offices, shopping malls, hospitals, hotels, etc.
* Radio Frequency;
** Category 5
*** High-Definition Multimedia Interface
**** Digital Visual Interface